The Best CCTV Systems for Construction Sites
Construction Site Theft is Increasing: The Best CCTV Systems for Construction Sites

With the rise in cost for materials and the cost of living crisis, it is no surprise that the UK is experiencing a sharp increase in theft offences. Recent research revealed that incidents of theft have increased by 27% across ten of the largest cities in the UK.
It is not just burglaries on residential properties that have increased, retail shoplifting is up and thefts from commercial property are also on the rise. One industry that has been severely affected is the construction industry, with construction site thefts becoming a major concern.
UK construction site theft costs £800 million per year and construction companies are losing money through site break-ins and thefts by people working on the sites. Copper theft is one of the most common types of theft and over 7,000 metal related thefts are recorded by construction companies every month.
Why Are Construction Sites Targeted for Theft so Often?
As construction sites are often left unoccupied overnight and over holiday periods, thieves see an opportunity to steal high value items from materials such as metal to equipment and even heavy plant machinery. Thieves are aware that equipment and materials are usually left unsupervised on construction sites and not all sites have effective security solutions, such as CCTV systems for construction sites, in place.
With materials currently in high demand, thieves know they can sell on stolen materials at high prices. Unfortunately, the cost of living crisis is also pushing people towards crime as a means to survive.
With many construction companies employing lots of contractors, there is also the risk that people working on the site can steal items such as tools and materials to sell them on.
How to Improve Construction Site Security
If you are a construction site manager or construction company owner, the rise in construction site thefts is probably a big concern to you. However, finding the best security solutions can help prevent your construction site from being targeted by thieves.
There are many different solutions for improving construction site security, such as employing security personnel to protect the site when it is unoccupied. However, this is a very expensive solution and there are other security measures that will cost less to implement.
Security solutions that will help reduce construction site theft include:
Install a high quality CCTV system for construction sites that covers key areas.
Erect strong, high fencing around the perimeter of the site with secure locks.
Install lighting that will make it difficult for trespassers to hide.
Access control through ID cards and visitor log.
Vehicle tracking on plant machinery.
Display signage that warns that there area is restricted and is under surveillance.
Conducting a security audit will help to identify your key risks and help you to decide the most appropriate security measures to implement.
Which are the best CCTV systems for construction sites?
CCTV technology is evolving at a rapid rate and there is a wealth of CCTV systems that are highly effective in deterring thieves. 
These are some of the best CCTV systems for construction sites:
PPE (Personal Protective Equipment) detection in CCTV (Closed-Circuit Television) systems refers to the use of video surveillance technology to identify whether individuals in a monitored area are wearing the necessary safety gear, such as helmets, masks, goggles, gloves, or vests, as required by safety regulations or guidelines in a particular environment. PPE detection CCTV systems have gained significance in various industries, especially in workplaces where safety compliance is critical, such as construction sites, manufacturing facilities, healthcare settings, and more.
RSI Videofied is a weatherproof and wireless intruder alarm that features a built-in night vision camera and infrared LEDs. In the event of an alarm, the video camera will record a short clip and send it to our alarm receiving centre for the key holders to be alerted immediately.
You can purchase RSI Videofied from us or lease the CCTV system for a temporary construction site.
The Insta360 Pro 2 is a popular choice of CCTV system for construction sites, providing high-resolution images and videos. One of the key features is the complete field view which captures panoramic images of the construction site.
The Hikvision 4G Solar Kit (DS-2XS6A87G1-L/C32S80) is ideal for providing CCTV monitoring for temporary construction sites where there is no mains power. It is lightweight, making it easy to install and can be moved from site to site easily. The Hik-Connect app can then be used to view live footage remotely.
Additional Security Solutions for Construction Sites
We also recommend security solutions such as DFUSION Video Analytics for improved perimeter security and ANPR to control access in and out of a site. Equipment tracking is also an effective way to reduce thefts and misplacement of tools. Thermal imaging such as Teledyne FLIR can also help to identify heat and fire before a fire incident occurs.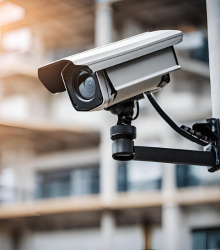 As a leading supplier and installer for CCTV systems for construction sites in Essex, Kent and London, we can advise you on the best CCTV systems for your construction site.
We will assess the layout of your site, identify the key security risks and recommend the most suitable construction site CCTV system.
Email info@247cctv.co.uk or call 01268 452602 to arrange a consultation.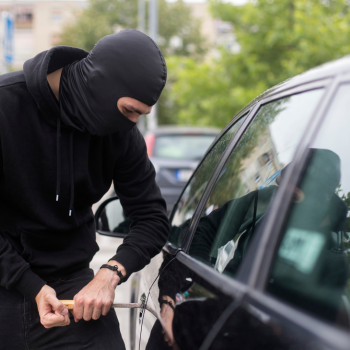 Car Thefts Up 29% – Security Tips for Preventing Car...