6 Key Features to Look for in a Modern CCTV System
6 Key Features to Look for in a Modern CCTV System
Research shows that CCTV is the number 1 burglar deterrent, so it is one of the best investments you can make to protect your home or business. Historically, you had to pay a considerable amount of money for CCTV that incorporated advanced features.
Fortunately, CCTV technology has evolved significantly in recent years, with high-quality CCTV systems now available within a more affordable price range. You can now install a good quality CCTV system on your property for less than £1,000.
If you are considering installing CCTV these are the key CCTV system features to look for:
1 High Resolution Video Quality
The ability to capture good quality images should be a top priority when you are buying a new CCTV system. Poor quality CCTV should be a thing of the past, with common resolutions on modern CCTV systems including 1080p (Full HD) and 4K (Ultra HD). The best possible camera resolution currently on the market is 8K.
The Arlo Pro 4 Spotlight camera is one of the more affordable camera kits, offering 2K HDR video, while the Cisco Meraki MV12WE Compact Dome Camera is a popular indoor security choice for retail CCTV and for inside bars.
2 Motion Detection and Alerts
There is a great range of cameras that have motion detection technology that uses AI to determine whether the motion is a security issue. For example, a passing vehicle or a tree branch blowing in the wind could set off a motion sensor but AI technology helps to ensure you only receive an alert if there is a potential security issue.
Lorex CCTV cameras rank highly for their advanced motion detection and alerts features. 4K video quality and night vision are also available in some Lorex models.
3 Remote Access and Mobile Monitoring
Whether you are installing commercial CCTV or residential CCTV, having remote access and mobile monitoring is essential to monitor live footage, adjust footage and receive important notifications. 
Look for CCTV systems that provide an easy-to-use app that allows you to see live footage and receive real-time alerts, so that there is no delay in providing you with security information. Most modern CCTV solutions offer remote access and mobile monitoring as standard.
4 Night Vision Capability
If you are installing outdoor CCTV cameras then night vision capability will be another key feature to prioritise. CCTV cameras that include Smart InfraRed technology provide the best quality in terms of night vision. 
Would-be intruders will often be put off when they see small red lights around the lens of a security camera, as this indicates that the Smart InfraRed is tracking their every move, even at the darkest time of night. Amcrest 4K Night Colour cameras provide full colour night vision for up to 49 ft.
When you are searching for the best CCTV camera to suit your requirements, consider whether you will need flexibility such as being able to add more cameras and integrating with other security devices at some point in the future.
For businesses, video analytics is a powerful feature that will help you to detect predefined events, patterns and behaviours to enable swift action to be taken to prevent problems such as violence, theft or intruders entering a restricted area.
Video analytics software is a great security solution for construction sites and other commercial properties that are at high-risk of thefts. The analytical data can be used to predict a crime, as well as provide detailed analysis following a crime that will help to prevent future incidents.
These are some of the most frequently asked questions about CCTV systems and CCTV installation:
What is motion detection in CCTV systems?
Motion detection is a CCTV system feature where recording only starts when movement is detected in the camera's field of view, saving storage space and focusing on potentially critical events. Motion detection is one of the key features to look for in a modern CCTV system.
Is it possible to integrate CCTV with other security systems?
Yes, many CCTV systems can be integrated with alarm systems, access controls, and other security components for the optimum security set-up.
How long can a CCTV system store footage?
Each CCTV system and storage solution will vary but many CCTV systems will store footage for up to 30 days.
CCTV Installation in London
Contact us today for expert advice on the best CCTV solutions to protect your property.
We are based in Laindon and install CCTV systems across Essex and London.
Call 01268 452 602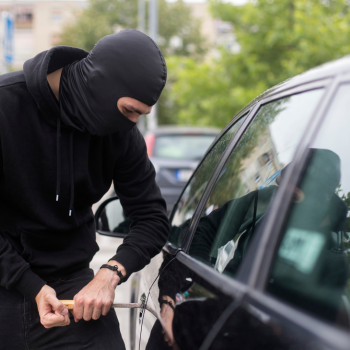 Car Thefts Up 29% – Security Tips for Preventing Car...